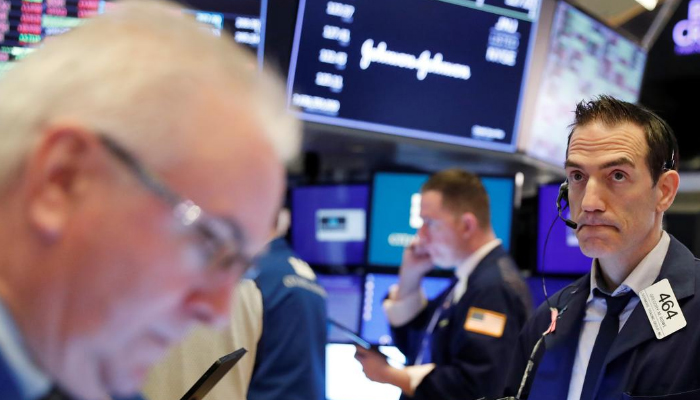 The sudden economic crunch due to coronavirus containment measures might cause a global recession this year and could see US corporate default rates spike above 10% in the next 12 months, ratings agency S&P Global cautioned Tuesday.
"The sudden economic stop caused by COVID-19 containment measures will lead to a global recession this year," S&P said in a new report
A cash flow slump and much tighter financing conditions as well as the simultaneous oil price shock will hurt creditworthiness, it added.
"These factors will likely result in a surge in defaults, with a default rate on nonfinancial corporates in the US that may rise above 10% and into the high single digits in Europe over the next 12 months."
Wall Street set for slight bounce after 'Black Monday' carnage
Wall Street's main indexes looked set for a bounce on Tuesday, a day after its biggest drop since the 1987 crash, as efforts to contain the rapidly-spreading coronavirus upended parts of the economy and dampened business sentiment.

Read more: Latest coronavirus updates
The Federal Reserve's severe move to cut interest rates to near zero on Monday sent the benchmark S&P to late 2018 lows, marking its third-biggest daily percentage drop on record, beaten only by the 1987 rout and the Great Depression crash.
Randy Frederick, vice president of trading and derivatives for Charles Schwab in Austin, Texas expressed skepticism over the market's bounce and said that the sentiment still remained weak.
"We have not experienced an issue like this in the last several decades, where it affects all industries and businesses everywhere in the world."
As governments in the United States and Europe start shutting restaurants and schools, as well as asking people to stay home, several investors are concerned the current crisis could snowball into something bigger than a recession, including a credit crisis or even a depression.
"A recession is a fairly high probability. The question is when does it start," Frederick said.
Wall Street's three main indexes have plunged about 30% from their record closing highs in mid February, ending the US stock market's longest-ever bull run.